Sep 4, 2018 07:42 PM Central
Hello


Oilers!
Happy September! Are you ready for cooler weather yet? I'm hoping to be able to unpack those cozy fall decorations and start wearing my comfy sweatshirts here real soon. Y'all know as we all get ready for that change in season, we need to remember to address the specific wellness challenges that change can bring. Colder weather means more people coughing which means GERMS EVERYWHERE. Do you have all the easy buttons on hand to help you stay well (or get well) if you start feeling under the weather? The Young Living promos for September do just that and can help us transition into the land of pumpkin spice lattes with ease and grace. Let's take a look at the promos for September and I'll show you what I mean. We've got a fall wellness prep kit that you can score for FREE this month. I really like this seasonal toolkit that YL coordinated for us this month to get wellness prepped!
Here's the full breakdown of the September PV promos: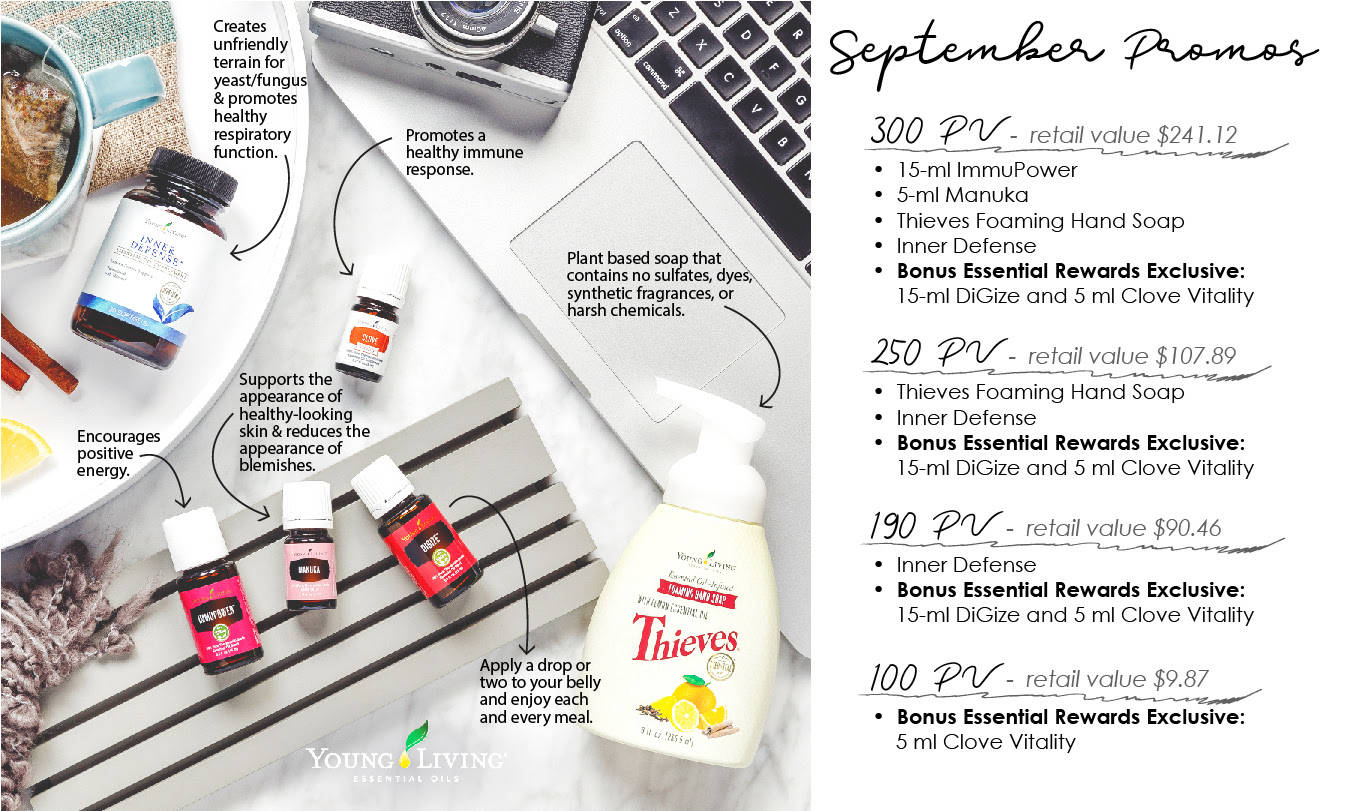 100 PV:
Clove Vitality 5-ml*
190 PV:
Inner Defense
DiGize 15-ml*
Clove Vitality 5-ml*
250 PV:
Thieves Foaming Hand Soap
Inner Defense
DiGize 15-ml*
Clove Vitality 5-ml*
300 PV:
ImmuPower 15-ml
Manuka 5-ml
Thieves Foaming Hand Soap
Inner Defense
DiGize 15-ml*
Clove Vitality 5-ml*
*Remember, in order to get the Essential Rewards Exclusive Clove Vitality 5-ml and the Essential Rewards Exclusive DiGize 15-ml, you have to be enrolled in Essential Rewards (ER) and have an order that meets the PV requirements for those items. The extra bonus of meeting these PV amounts with your ER order is that you get even more ER points to spend later!

Clove

has been used for generations to help with health and wellness, so it makes sense that it's part of the Thieves blend and that Clove Vitality is in this month's promos. Take it in a veggie capsule or add a drop to a warm tea for a spicy, healthy kick.

DiGize

will be a lifesaver as our culinary choices change with the season and our stomachs adjust. Richer foods and eyes too big for our stomachs can sometimes lead to upset stomachs, so keep that bottle near.

Inner Defense

is one of the big guns for when your body is under attack. It really packs a punch, so it's not meant for everyday use, but when you're feeling under the weather, let it help you fight off what's going on and help you on the road to recovery. To avoid as many of those times of feeling nasty,

Thieves Foaming Hand Soap

will help keep your hands clean and fresh when germs are on the loose. Helping with another seasonal transition,

Manuka

can help keep your skin soft and avoid dryness as the weather changes. Add it to your skincare routine and you'll notice less of a change in your youthful looking skin, even as the seasons change. Last but not least,
ImmuPower

rounds out the promos with an aromatic treat for your senses. With oils like Dorado Azul, Ravintsara, Oregano, Cumin, Hyssop, and more, your nose, chest, and body will thank you as you diffuse it or apply it to our neck and chest with a carrier oil. It's not one that gets talked about a lot, but it's a great addition to your fall and winter oil collection. All of these promo items together will have you feeling ready to fight whatever this change of season brings our way.
New Healthy

Heart Supplement: CardioGize!
On top of those incredible promos, last month Young Living introduced a new product that is good for the heart and reintroduced a newer product that's good for our bodies but also puts smiles on everyone's faces in the family. CardioGize is a brand new cardiovascular system supplement and the Einkorn Flakes Cereal that was introduced at Convention this year is back in stock and here to stay! Here's what's so great about both of these awesome products.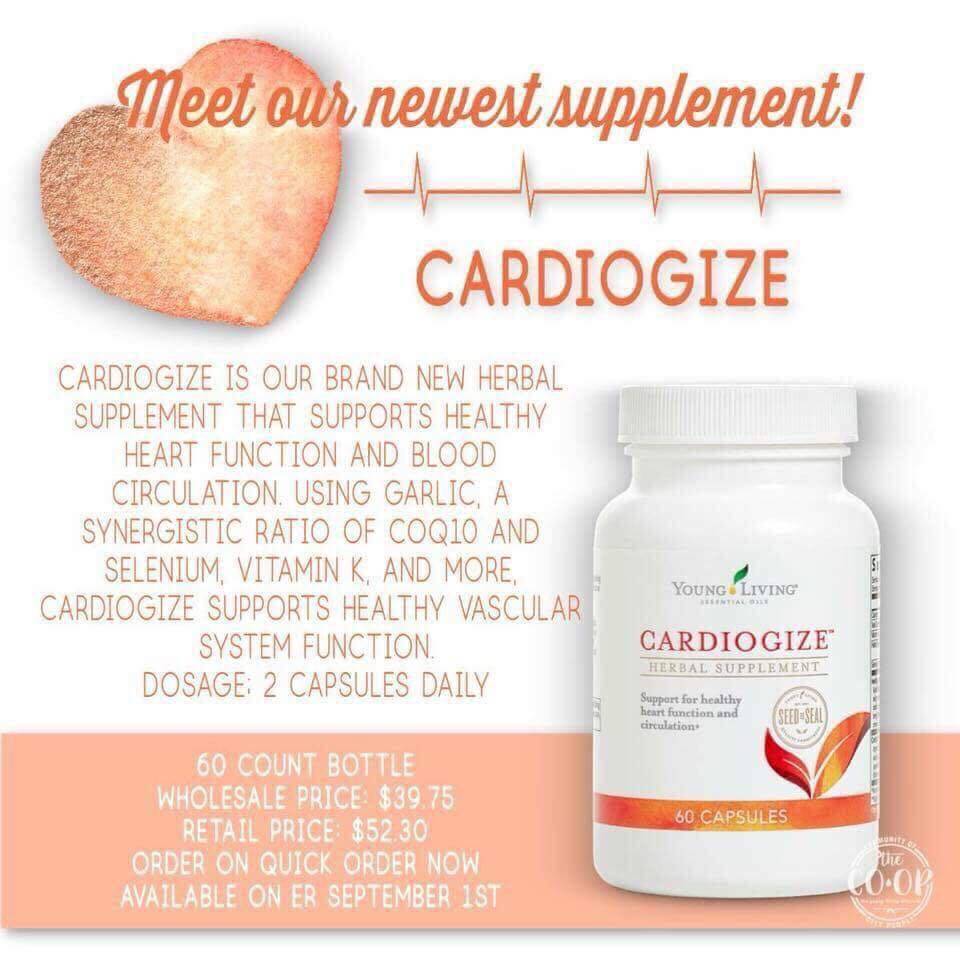 C
ardioGize

is a new herbal supplement that supports healthy heart function and blood circulation. Using garlic, a synergistic ratio of CoQ10 and selenium, vitamin K, plus essential oils like Angelica, Cardamom, and more, CardioGize supports healthy vascular system function. This is the perfect complementary product to OmegaGize to support a healthy heart and keep those tickers tickin'! I am so happy that Young Living has given us another option to help keep us healthy and living life longer and happier. Here's the information for CardioGize:
CardioGize (60-Count Bottle)
Item #: 21696
Wholesale Price: $39.75
PV: 39.75
Limits: No

Einkorn Flakes Cereal
is not technically a brand new product, but because they sold out at Convention so quickly this year (all the people who tried them there at Convention scooped them up!), they're new to most of us. This is a nourishing morning meal that your whole family will get excited to wake up for. It is low in fat, has no trans-fat, contains non-GMO ingredients, and has high levels of protein. This is also a great alternative for those who are sensitive to modern wheat. Plus, it tastes great! They have upped the production on the Einkorn Flakes Cereal to make sure that this can be a staple in homes across the country, and I think once you try it you'll know why! Here's the information for Einkorn Flakes Cereal: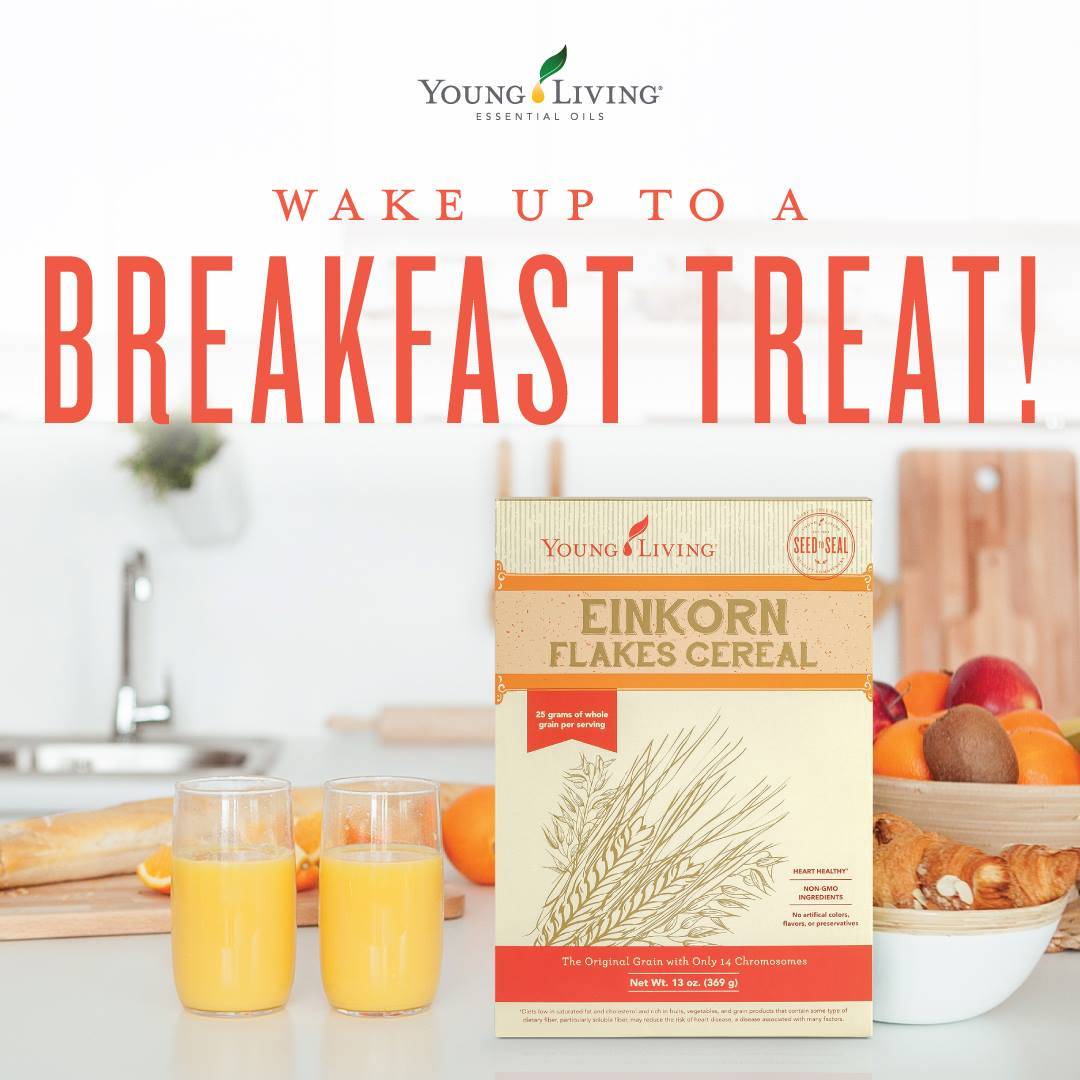 Einkorn Flakes Cereal
Item #: 24327
Wholesale Price: $5.50
PV: 2.75
Limits: No

Announcing Free Speedy Shipping with YL Go! Like Amazon Prime for YL Oilers!

FINALLY! The faster and cheaper shipping option we've all been waiting for, YL Go is a subscription shipping service that provides you with FREE, fast, and convenient shipping all year long! Basically, it's like Amazon Prime but WAY better because YL Go offers free shipping on ALL of its products. This means shipping on all 12 of my Essential Rewards orders will be covered as well as 24 MORE Quick Orders. Your products also come in 2-4 days! It's worth every penny. Are you a NingXia Red fan or a last minute birthday shopper? Do you want to cash in your ER points for free products and you don't want to pay to ship them? No prob, Bob. With YL Go+ you get free shipping on 24 Quick Orders a year!
To sign up for your YL Go subscription, log into your Virtual Office and you can click the tab under Essential Rewards. You have the subscription option of $59 for 13 ER orders or $129 for ER and Quick Orders, but these are introductory offers, and the prices will go up!

Bee Oiled at BeLeighve Fest Saturday, September 8th!

We're one of the Platinum Sponsors for this charity fundraiser for the Leigh family of Warrenton! A few months ago, my musician husband and the keyboard player in his band wondered "what if" we could do something BIG for a local family that's had a double dose of childhood cancer (one child in remission, one currently in treatment). After months of planning and legwork by a dedicated team of volunteers, the dream of BeLeighve Fest is happening in just a few days at Barrel Oak Winery! Make sure to grab your tickets through eventbrite and join us! Stop over at my purple tent to pick up green and gold BeLeighve Fest rollerball bottles for a $10 donation!
https://www.eventbrite.com/o/17484090871

September Thieves Stock Up!

Looks like it's going to turn out to be a fine month and I hope you're ready to embrace fall just as much as I am. A few other tips as we head into the cool embrace of autumn:
Use a drop of your Thieves Vitality to make a nice warm tea that helps support your immune system and tastes like fall in a cup.

Stock up on those Thieves Essential Oil Infused Cough Drops and Lozenges so your throat doesn't revolt against you!

Keep a bottle of Thieves Waterless Hand Purifier in your car so when you pick up the kids or get out of the grocery store (or anywhere in public) everyone can get their hands purified and clean.

Basically just get all Thieves everything in your Essential Rewards order this month.
Get a few good books that you want to read all cozied up and prepare for those crisp autumn days.
As always, if you have any questions or need help with anything, please let me know. I'm happy to help in any way I can. I hope you have a truly spectacular September and that the transition into fall treats you and yours well!
--

Holly S.