Jul 3, 2018 07:33 AM Central
Hello oilers! Happy halfway through the year!
Seems like 2018 is zipping by, but the ride has been amazing so far! I am so grateful I get to be a part of Young Living. This is so much bigger than me and you. So blessed I said "Yes" to all of this almost 4 years ago, and I am so excited YOU said "Yes" to this healthy lifestyle, too! I can't wait to see where we both are by the end of the year. Read on to hear about how you can score yourself a free bottle of the oil blend that will keep me a loyal YL oiler for life (Valor!) and your own copy of Vitality, the beautiful new reference guide from YL aromatherapist Jen O'Sullivan!
Young Living USA July Promo Items - Yes that's free VALOR!
Let
️ FREEDOM RING
with this list of perfect for summer promos for July!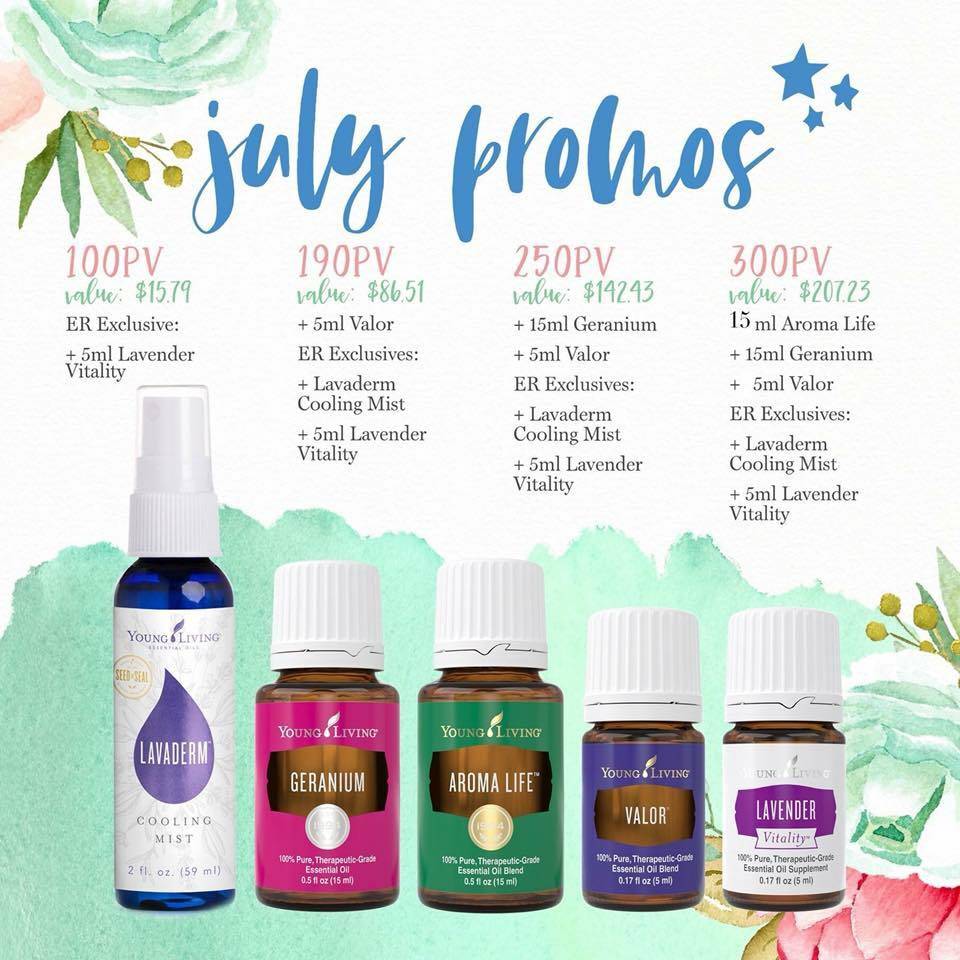 5 ml Lavender Vitality (ER exclusive): Be the star of your summer gatherings with easy to mix up Lavender Lemonade (just 1-2 drops to a full pitcher)
5 ml Valor: Seriously? Free VALOR?! Y'all this is my all time favorite and the oil blend that will keep me a YL oiler for life! Courage and go-for-it in a bottle: this calms my nerves and I put it on each time I teach a class, have to have a hard conversation with someone, or just need a dose of calm and tranquility. This is a safe and favorite blend for kids and adults. I found that our dauchsund puppy also loves the smell of it, but let's face it, doxies DON'T need an extra boost of courage, know what I'm saying?
LavaDerm (ER exclusive): Sweet smelling, cool down LavaDerm mist keeps your skin happy in the summer if you've had a little too much outdoor time. Also, if you're a fan of Savvy Minerals, you can use this in place of the Misting Spray, works just like it!
15 ml Geranium: Now I love this oil by itself and also because it's in two of my favorite blends, Joy and Harmony. You can add it to your facial care products for skin support and surprisingly a lot of people add it to the water in their HOT TUBS!
#itshotinthehottub
15 ml Aroma Life: Oh my heart! I love this blend when I just get a little too mom hyper and need to call myself down. What, y'all never get mom-hyper?
#tellyourselfthetruth
Cypress, marjoram, ylang yang and helichrysum in a base of sesame seed oil, you wear it over your heart and your wrists to get a grip and push through to do all the mama things. Love this one and I think you'll be delighted with this one if it's new to you!
*If you are not on the Essential Rewards program yet, make sure you join and order your products through this program. You get points back, free gifts at months 3, 6, 9, & 12, and a free oil when you order 100 PV. You can cancel at any time, and you must place a 50 PV minimum order monthly to build up your points. It's the best bang for your buck!
The Vitality Challenge! I'll send you a free copy of aromatherapist Jen O'Sullivan's new reference guide when you order 100pv or more as an Essential Rewards order (you'll get that free bottle of Lavender Vitality from YL, too, with a 100pv order). This is my way to help you become an educated oiler and encourage you to consistently use your oils to better your health, decrease your stress, and kick those toxins out of your home. Y'all, you get cash back on all your Essential Rewards orders! It's the smartest way to get Young Living oils, mineral makeup, supplements, and Thieves cleaning products at a very nice discount (I get 25% back)! If you sign up for Essential Rewards in July (for the first time, or to get back on the ER train monthly) I'll also send you a free surprise bottle of oil in the mail as a big thank you!
I am so excited about this new how-to-oil-like-a-boss reference guide recently published by one of my favorite aromatherapists, Jen O'Sullivan. Over the past few years, Jen created countless video classes on line and now we have that content in a book form that's well organized, based on science and smarts, with recommendations that are easy to put into practice right away. You'll have lots of
moments with this book and you'll want to tab and highlight it all the way through.
______________________________
_____________________________________________________________
Summer is for working toward your dreams and goals!

As a homeschool mom, I've always taken the summer months as a time of rest, reflection, and goal setting for the upcoming year. I'm implementing something that a lot of YL oilers put into place to help them stay on task with their plans and goals called OOLA! Have you heard of it? Oola is just a word that was coined to mean: "a state of awesomeness when your life is balanced and growing in the seven key areas of life - Family, Faith, Fitness, Finance, Friends, Fun, and Field." To partner with the Oola book series (look it up on Amazon) YL created the Infused 7 blends, one for each of these 7 key areas of life to be used as an olfactory "string around the finger" to remind you to stick to your goals and small daily tasks to make your dreams and goals happen! You can diffuse one of these when when you're doing work related to your goal to set that aroma in your mind to keep you on task. Pretty cool, huh? Sometimes you'll also see me wear one of these colored bracelets that the Oola guys created to be worn as a reminder to keep working on a goal in that specific area of life. They are fun and the colors are cheerful, too. I'm looking forward to seeing the two Oola guys speak again (they are so funny and really light a fire of motivation under ya!) this September.
_____________________________________________________________________________________________
Introducing new products!

You can now order all the new products released at Convention through Essential Rewards and receive 10%-25% BACK in ER points to use on future products. If you aren't on ER yet, we need to have a little chat. ;) It's the best way to save money.
Check out all the new products, including the Maximum Strength Acne Treatment, new makeup, the cutest farmhouse lantern diffuser, prebiotic/probiotics for kids, and 50 SPF Sunscreen which is recommended by the Skin Cancer Foundation. All the details on the new products can be found here:
https://www.youngliving.com/en_US/products/convention-products
Make the most of your 4th of July!
Fireworks are a common tradition on the 4th of July, but the loud noises can make for an unsettling evening for those that have served in uniform and your furry friends. Use Lavender and Stress Away, two Premium Starter Kit favorites, to provide a calming atmosphere. Other calming favorites are Peace and Calming and Valor.
How to make the tastiest guac for the 4th:
Lemon- Lime Guacamole
2 ripe avocados, seeded and mashed with a fork
1-2 T red onion, finely chopped
2 cloves garlic, crushed/minced
1/2 to 1 drop Lemon Vitality Essential Oil
1/2 to 1 drop Lime Vitality Essential Oil
1 small Roma tomato, diced
1 t fresh cilantro leaves, finely chopped
Salt to taste
Directions: Add avocado to a small mixing bowl. Mix into the avocado the red onion, crushed garlic, diced tomatoes, chopped cilantro, and salt to taste. Add a little of the lemon and/or lime essential oil (use the dilution tip we gave you) and taste; add more to taste.
Onion trick: To remove some of the bite of the red onion, soak the chopped onion in warm water for five minutes and then remove from the water.
Serve with tortilla chips (of course)!
Bee oiled
and be safe and have a fun 4th !
-- Holly S