Mar 2, 2018 12:58 PM Central
Spring is just around the corner, are you as excited as I am? For my March newsletter, I have some product recommendations, an exciting announcement regarding an upgrade to our Premium Starter Kit, the topic of my March class, and of course the YL PROMOTIONS for March!
For my first March update......presenting..... The Bee Oiled Collective !
As Spring rolls in, I am refreshing my essential oils teaching business with a new name that reflects my love of honeybees and my desire to create a community of positive people that support each other to build healthier hives...I mean...healthier homes. Are you on Instagram? You can follow me at beeoiledcollective on IG, where I will include classes in quick flip format, essential oil DIY ideas, kid-approved healthy foods, and a peak in to what I'm growing in my garden. Why bees and essential oils? Plants produce essential oils to help maintain the health of the plant and to also attract pollinators like bees, so without the bees, we truly wouldn't "be oiled" or enjoying the health benefits of oils in our homes.
Traveling for Spring Break?
Whether you're headed out of town for a weekend or a full week over spring break, you will want to be prepared with a few YL favorites for travel.
Bon Voyage is a travel set filled with personal care products that come in a compact travel bag.
All products are TSA-compliant. Now that is what I am talking about. #convenience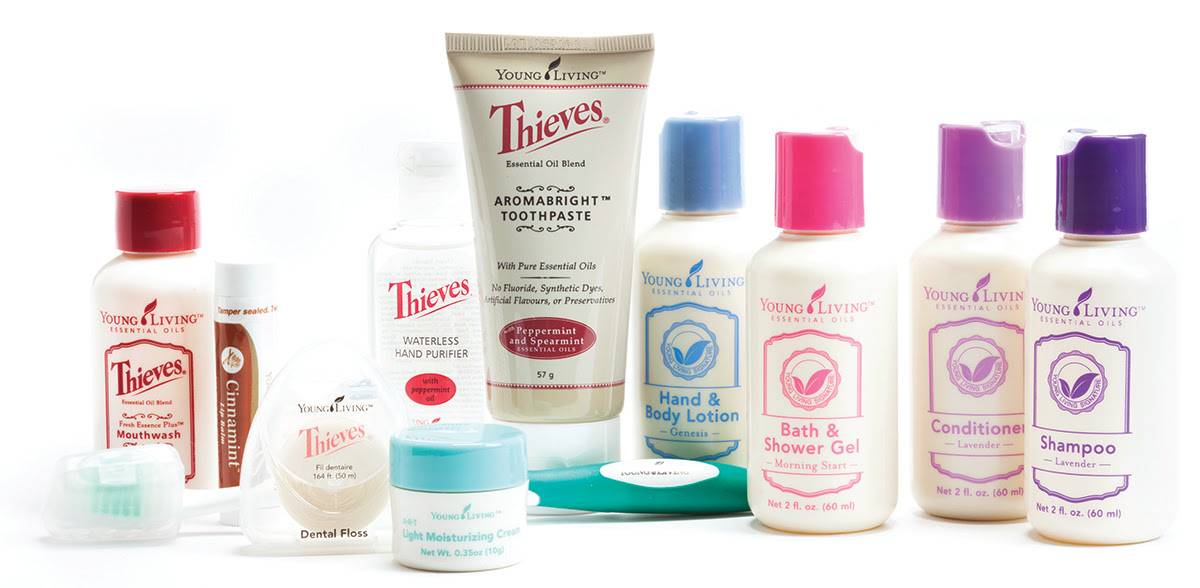 Bon Voyage item #: 4699 $56.50 WS 51.25 PV
Thieves® AromaBright Toothpaste, 60ml
Thieves Waterless Hand Purifier, 29.5ml
Thieves Dental Floss
Thieves Fresh Essence Plus Mouthwash, 60ml
Young Living Toothbrush
Lavender Shampoo, 60ml
Lavender Conditioner, 60ml
Cinnamint Lip Balm
Morning Start™ Bath & Shower Gel, 60ml
Genesis™ Hand & Body Lotion, 60ml
ART® Light Moisturizer, 10g
---
---
Announcing - upgraded Premium Starter Kit!
Did you hear about the NEW Premium Starter Kit (PSK)? RC and Purification have officially been replaced with Raven and Citrus Fresh.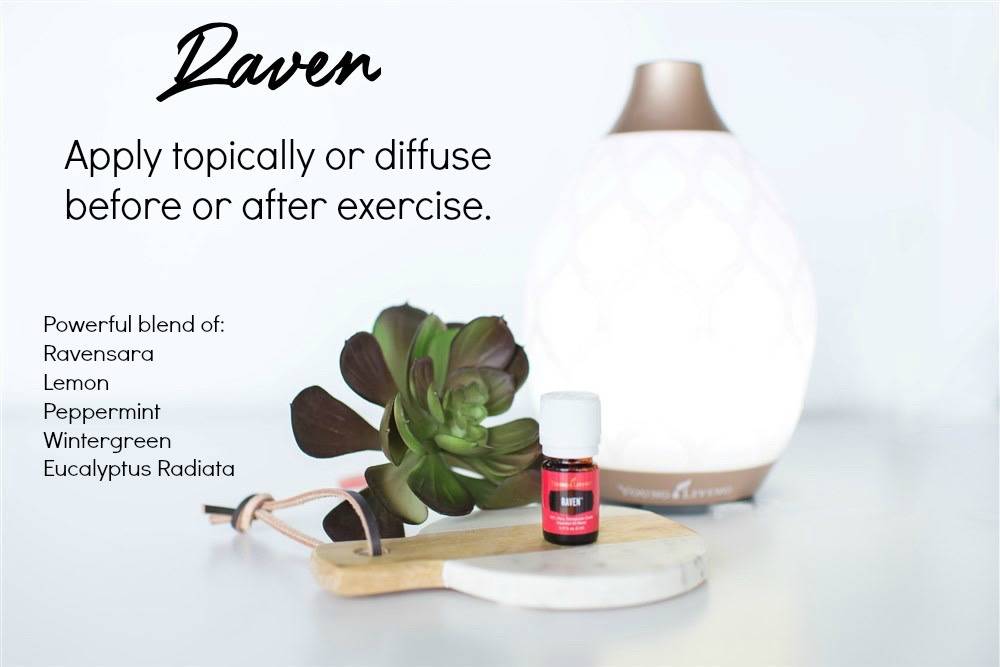 Raven™ is a powerful blend perfect to diffuse or apply topically pre or post exercise and before bed.
Single Oils Contained in This Blend:
Ravensara is a cross between clove and nutmeg. Great for energy.
Lemon promotes physical energy and is great topically on your lungs.
Wintergreen contains 99% methyl salicylate which makes it great to apply to chest and joints pre or post workout.
Peppermint is soothing and cooling.
Eucalyptus radiata gives you a spa-like experience when used or diffused.
Application: Dilute one to two drops and apply topically to lungs and throat. Diffuse or put on pillow at night. Pairs well with Thieves. Not recommended for small children.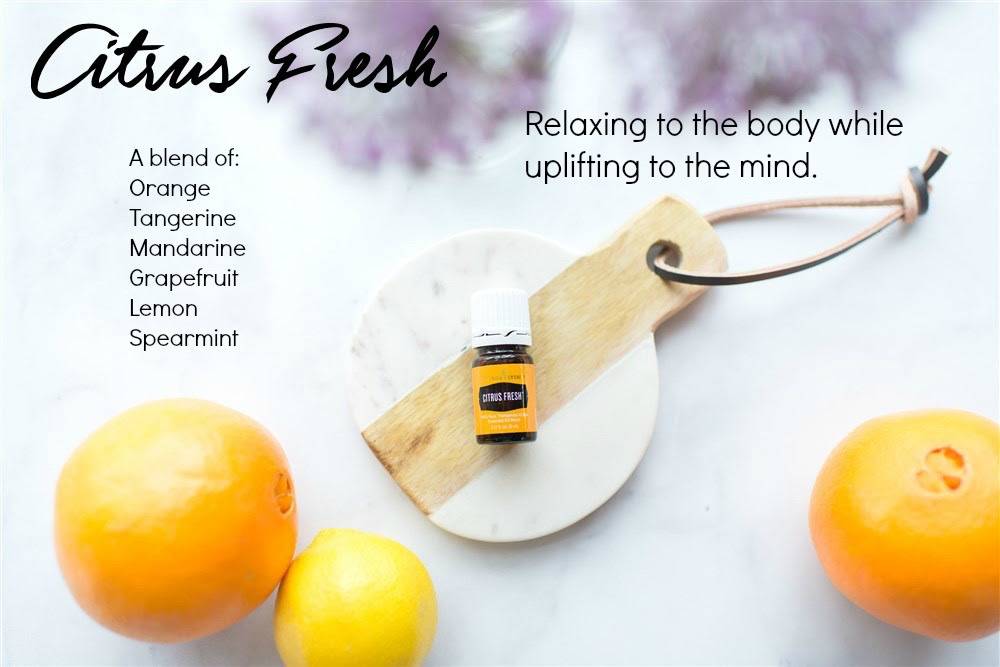 Citrus Fresh™ is a blend that may help to enhance the feeling of well-being in children. It is relaxing and calming and it smells SO good. Think citrus with a hint of mint.
Single Oils Contained in This Blend:
Orange brings peace and happiness to the mind and body.
Tangerine is calming to the nervous system.
Mandarin promotes happiness. It is also refreshing, uplifting, and revitalizing.
Grapefruit is balancing and uplifting to the mind.
Lemon promotes health and physical energy.
Spearmint is uplifting to one's spirit.
Application: May be applied on the ears, heart, and wrists or worn as a perfume or cologne. Diluted with V-6 Oil for a full-body massage. It may also be added to water for a relaxing bath. It is excellent for children, though dilution with V-6 Oil is highly recommended.
Safety Data: Avoid exposure to direct sunlight for up to 12 hours after use.
---
In addition to the new oils, the PSK will now come with a sample of Thieves cleaner instead of the essential oil sample packets. I am so excited that our friends get to try out how magical this cleaner is right away. This one ounce sample can easily make two 16 oz spray bottles of toxin-free all purpose cleaner.
---
If you thought that wasn't enough, you can now
order the PSK with the Desert mist diffuser for $160 100PV on quick order only.
This is a great way to get a new diffuser, try the new oils, and restock your favorite oils. The Desert Mist diffuses continuously for 5–6 hours on High mode, 8 hours on Low mode, and 10 hours on Intermittent mode.* It also offers 11 individual light settings, including a candle-like flicker mode.*Run time may vary based on essential oil type and number of drops used.
---
Upcoming Class!
Would you love to spend a fun Saturday afternoon learning more about oils and staying on track with healthy goals?
My March class is
Creating a Wellness Plan with Essential Oils.

Do you have a rainbow of essential oil bottles tucked inside a drawer or looking pretty on a shelf....but you're unsure how to use them? This class will help you plug in the potential of those bottles to boost your wellness and make a personalized plan for your wellness goals. You'll learn how to research essential oils, how to get the most out of the oils you already have, and how to find the oils you need to support particular systems of the body. Class is limited to 10 spots, and everyone receives a copy of the new "Now What?" 4 month wellness planner to help you target 4 months of health goals. Your $5 fee covers the cost of your Now What planner.

---
Young Living March Promotions:
HELLO Spring Cleaning. Fill up your Essential Rewards cart with your favorite items like NingXia Red, Multigreens, and Abundance and receive these everyday must haves for FREE. You must reach the PV value in a single order to qualify for promotional items.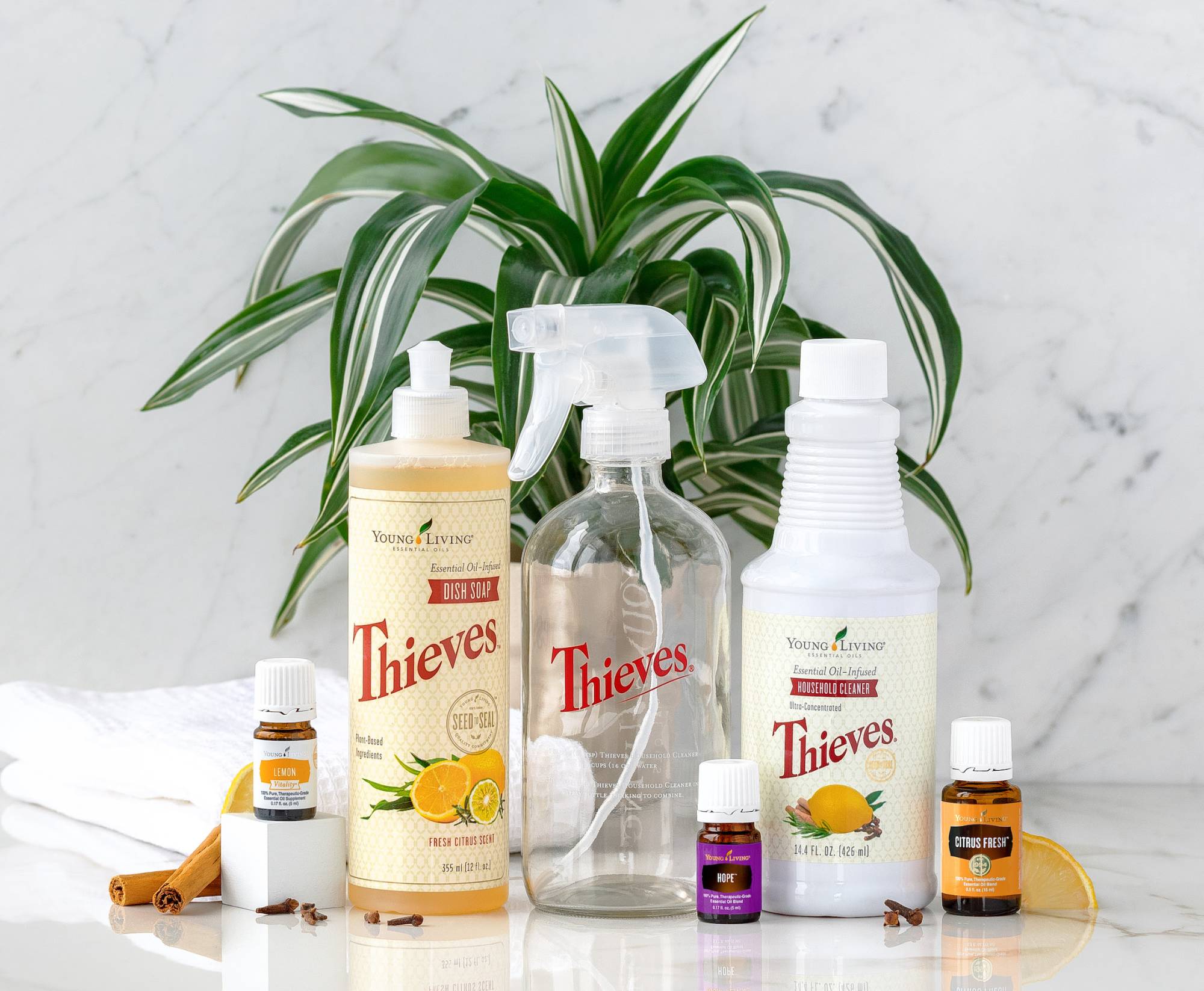 300 PV (Retail value - $154.27)
Hope is a blend of Melissa, Myrrh, Juniper, and Spruce. It gives a feeling of peace, security, and achievement. Who doesn't want that!? Apply this one to your, chest, heart, temples, back of your neck, and wrists. Use it as an beautiful perfume or cologne. Put 4-8 drops in your diffuser and inhale for feelings of going forward with hope and achievement.
Thieves Cleaner with 16 oz Spray bottle
- One bottle of this concentrated Thieves Cleaner is enough to make twenty-nine 16 oz spray bottles. Generic cleaners contain
Phalates
which interfere with hormones and are carcinogens. NO THANK YOU. I'll always use my Thieves cleaner that is SAFE and EFFECTIVE. It is naturally derived, smells great, and I can use it on EVERYTHING.
Thieves Cleaner contains two different sulfates that are derived from coconut oil and sugar. These sulfates are considered surfactants, which contain a molecule that loves water and a molecule that hates water. That means the Thieves Cleaner sticks to the surface and grabs the oil and then washes away easily with water.
Thieves Dish Soap - A little goes a long way. Don't be fooled by few bubbles while washing. This is a powerhouse cleaner infused with Jade Lemon, Bergamot, Clove, Lemon, Cinnamon, and Rosemary essential oils. It contains one of the most gentle surfactants around, often used in baby shampoo, called Decyl Glucoside. Perfect for the most sensitive skin.
BONUS ER 15 ml Citrus Fresh - We just talked about this one above, so I don't need to repeat how amazing it is!
BONUS ER 5 ml Lemon Vitality - Add a drop of Lemon Vitality to your water, food, or daily wellness capsule to add flavor, promote overall wellness, and support your liver and lymphatic system.
250 PV (Retail value $76.67)
Thieves Household Cleaner with 16 oz Spray Bottle
Thieves Dish Soap
BONUS ER 15 ml Citrus Fresh
BONUS ER 5 ml Lemon Vitality
190 PV (Retail value $47.36)
Thieves Dish Soap
BONUS ER order only 15 ml Citrus Fresh
BONUS ER order only 5 ml Lemon Vitality
100 PV (Retail value $8.22)
BONUS ER order only Lemon Vitality
I am here to serve you and to connect you with the Young Living products that support your wellness goals. May you have a wonderful month as Spring arrives!
-- Holly S.