May 8, 2018 11:25 AM Central
Presenting the Bee Oiled Collective monthly newsletter for May! School's out here and we are ready for summer to begin.
Are you nourishing your skin with clean ingredient makeup that enhances your natural beauty or are you wearing fast food for your face? You've heard me talk excitedly about the toxin free makeup that Young Living launched last year called Savvy Minerals, and I'd love for you to come and try it out for yourself. In this class, you can try out a buffet of Savvy shades of foundations, blushes, eye shadows and lip colors to find the perfect match for your skin. Teen girls, you are especially welcome to come and learn how to be smart and choosy about what's hiding in that makeup from Target! $15 class fee to cover the cost of your own complete set of 8 mineral makeup brushes that you'll take home with you. Learn more here:
www.savvyminerals.com
Do you have your Valor? Announcing...courage in a bottle now comes in a roll-on!
Ah Valor! For this oil blend alone, I will never let my Young Living membership run out. We have been BFFs since the fall of 2014 and this is my get-ready-get-set-and-go oil. Every awkward conversation, this helps me to calm my jitters. Let's just say on many peopley occasions when I feel particularly introverted, I keep it in my pocket. This oil blend converted me from an occasional lavender sniffer to a full on oil lady. I always have it with me, so ask me for a drop and you'll soon see what I mean. Now it comes in a super sized.roll-on bottle!
Valor is a blend of Black spruce, Camphor wood oil, Blue tansy, Frankincense, and Geranium.
Diffusing this oil helps us overcome fear and opposition so we can stand tall. Valor helps to build courage, confidence, and self-esteem and it also brings a feeling of calmness, peace, and relaxation.
Write down something you would like to accomplish this month that requires a little boost of confidence! Use your Valor EVERY DAY. At the end of the month, take a look at what you have accomplished! #unicornoil
_______________________________________________________
Presenting the May monthly promos!
Order the amounts below in one single order and receive these FREE items! Please note * ER bonus items will only be sent if you order through the Essential Rewards program.
300 PV
15-ml Clarity – Feeling tired? Clarity blend is great for mental alertness. Use it daily when you wake up to start the day fresh and energized. Side note: every Young Living training event I've ever attended smells like a room full of Clarity and Peppermint! It's the oil-lady-mental-focus-blend of choice.
15 –ml Thieves – enjoy the most popular blend Young Living offers with a spicy, sweet aroma of Lemon, Clove, Cinnamon bark and more to offer a welcoming home oasis. Diffuse 4-8 drops every day to live above the wellness line.
15-ml Juniper – Evokes feelings of health, love, and peace. Diffuse this during meditation or prayer to be more aware of your intentions. This is an oil that I don't have yet so I'm looking forward to adding it to my collection for free!
15-ml Eucalyptus Radiata – A common oil used in steam rooms. Create your own SPA experience at home when diffused. Dilute a drop or two and apply to chest pre and post exercise. Of all the species of eucalyptus oil that YL offers, I prefer this one for kids.
*ER Bonus 5 ml Peace & Calming – Promotes feelings of peace and calming. Oh my cheese, please tell me moms that you've tried this one? Get yourself your Valor roll-on this month and make sure you're signed up for ER so you can get yourself a free bottle of Peace and Calming, too. Let's just say it's effective for all ages....and many neurotic puppy dogs, too. This is the perfect oil to diffuse on a Memorial Day weekend road trip.
*ER Bonus 5-ml Lime Vitality – Spice up any Mexican dish with this oil. Got guac? Add a drop to your daily NingXia Red to support your digestive, immune, and respiratory systems.
____________________________________________________________
Celebrating Moms (and looking ahead to celebrate Dads)!
Mother's Day is only a few weeks away. Don't worry. It is not too late to get a last minute Mother's Day gift. Check out these fun ideas!
Father's Day....it always sneaks up on you so plan ahead!

No idea what to get the men in your life for Father's Day? Check out these three categories of gifts perfect for him: all things Shutran, clean ingredient supplements, and of course essential oils for guys!
Shutran
Shutran™ - The Shutran line is specially formulated for men to boost feelings of masculinity and confidence.
Shutran™ Beard Oil 19802
Shutran™ Bar Soap 5711
Shutran™ 3-in-1 Men's Wash 8oz 20483
Shutran™ Shave Cream 5157
Shutran™ Aftershave Lotion 5710
Shutran™ Essential Oil 15 ml 4835 - Use as a cologne that appeals to both men and women. Yes, yes it does
Supplements
NingXia Red – Packed full of antioxidants to give your man the energy he needs daily.
Sulfurzyme – Used to support intestinal function and eliminate free radicals.
Omegagize3 combines the power of three core daily supplements-omega 3 fatty acids, vitamin D-3, and CoQ10 (ubiquinone). Used daily, these ingredients work synergistically to support normal brain, heart, eye, and joint health.
Other favorites:
Powergize - Boosts stamina and supports the male reproductive system.
AgilEase™ - A joint health supplement for people who may experience a natural, acute inflammation response in their joints after exercise or who are looking to gain greater mobility and flexibility through the reduction of inflammation.
Essential Oils are not just for women!
Every man deserves essential oils to support his health. Some of my favorites for guys are…
Thieves to live above the wellness line (Get it FREE this month when you spend 300PV on one order)!
Golden Rod & Idaho Blue Spruce to rev up his engine. Ahem.
Panaway, Deep Relief, & Cool Azul for muscles and joints (or take a look at the Cool Azul Pain Cream or Gel).
Sacred Mountain™ for feelings of strength & empowerment when diffused.
RC & Eucalyptus Radiata (Free at 190PV) diffuse or apply to lungs before or after exercise.
___________________________________________________________________________________________
Best wishes for a beautiful beginning to summer for you and your family!

---
Mar 29, 2018 08:18 AM Central
Are you a hard core bulk buyer/Costco coupon clipper/family pack fan?
I've got a couple of deals to share with you from Young Living that start at 10am today (Eastern Time, 8am Mountain Time) and last til the last minutes of March.
Bundle #1 The Hop to the Drop Bundle: Dew Drop diffuser + 5ml Peppermint + 5ml Tangerine for 15% off!!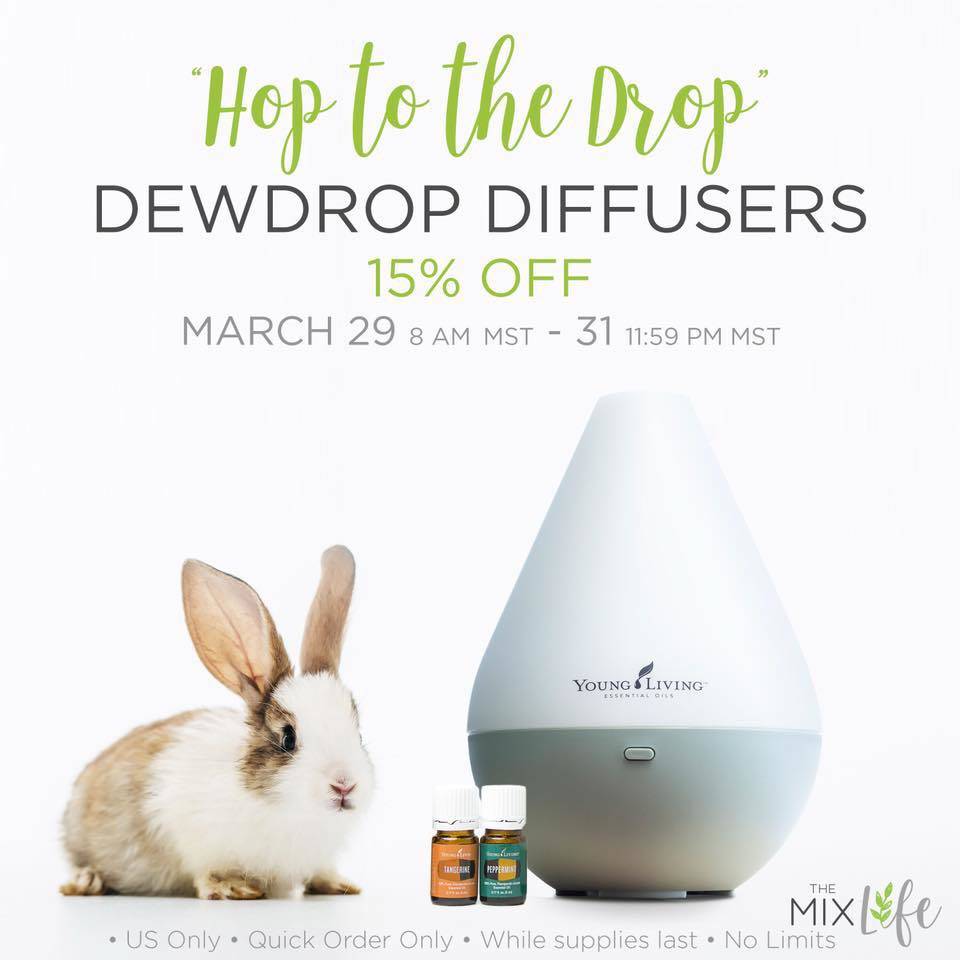 Y'all this is the cutest diffuser in the YL line up! If you are looking for a 2nd diffuser for a kid's room or an office, this is the one I would recommend because it's durable, travels well, and fits in tight spaces (such as a desk or corner of the room). My DD has survived countless accidental knock overs and trips to and from the classroom and boy, it's still going strong! You get
Peppermint and Tangerine, two of the top oils for motivation, emotional support #happyhappyjoyjoy and pretty much a positive awakening to spring and warmer weather!
Total for the bundle: $54.19 (When you subtract the wholesale price of the two oils, you are getting this high end diffuser for $36.69, and it has a warranty as a guarantee of quality!
Bundle #2 Spring Seasonal Support Bundle for *new* oilers: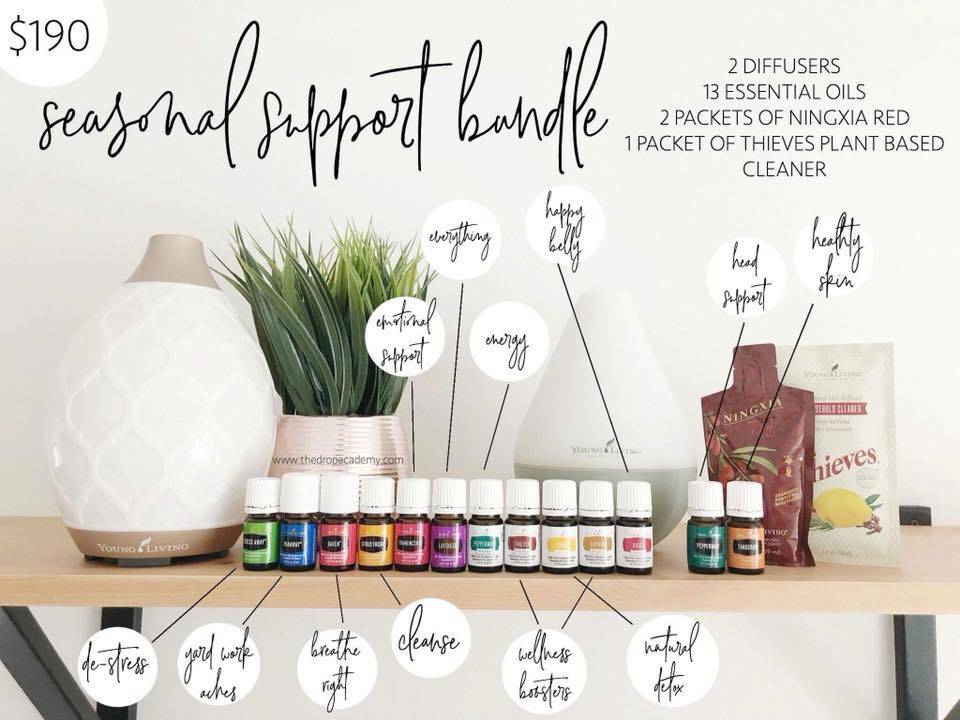 Add the Dew Drop diffuser + the 2 bonus oils to a Premium Starter Kit and you have 2 diffusers + 13 oils for $190!! This is a treat especially for people who have been wanting to jump into oiling but want a budget friendly bundle. When you get yourself a Young Living Premium Starter Kit and add on the Dew Drop diffuser 15% off special, I'll give you
$25 cash back
from me to feather your nest.
Let's get you started and perk up your spring with a positive outlook on life! :)
To get either of the bundle deals, shoot me a message at beeoiledcollective@gmail.com and I'll tell you how to hop on it!
Best wishes for a beautiful Easter for your family!
Mar 2, 2018 12:58 PM Central
Spring is just around the corner, are you as excited as I am? For my March newsletter, I have some product recommendations, an exciting announcement regarding an upgrade to our Premium Starter Kit, the topic of my March class, and of course the YL PROMOTIONS for March!
For my first March update......presenting..... The Bee Oiled Collective !
As Spring rolls in, I am refreshing my essential oils teaching business with a new name that reflects my love of honeybees and my desire to create a community of positive people that support each other to build healthier hives...I mean...healthier homes. Are you on Instagram? You can follow me at beeoiledcollective on IG, where I will include classes in quick flip format, essential oil DIY ideas, kid-approved healthy foods, and a peak in to what I'm growing in my garden. Why bees and essential oils? Plants produce essential oils to help maintain the health of the plant and to also attract pollinators like bees, so without the bees, we truly wouldn't "be oiled" or enjoying the health benefits of oils in our homes.
Traveling for Spring Break?
Whether you're headed out of town for a weekend or a full week over spring break, you will want to be prepared with a few YL favorites for travel.
Bon Voyage is a travel set filled with personal care products that come in a compact travel bag.
All products are TSA-compliant. Now that is what I am talking about. #convenience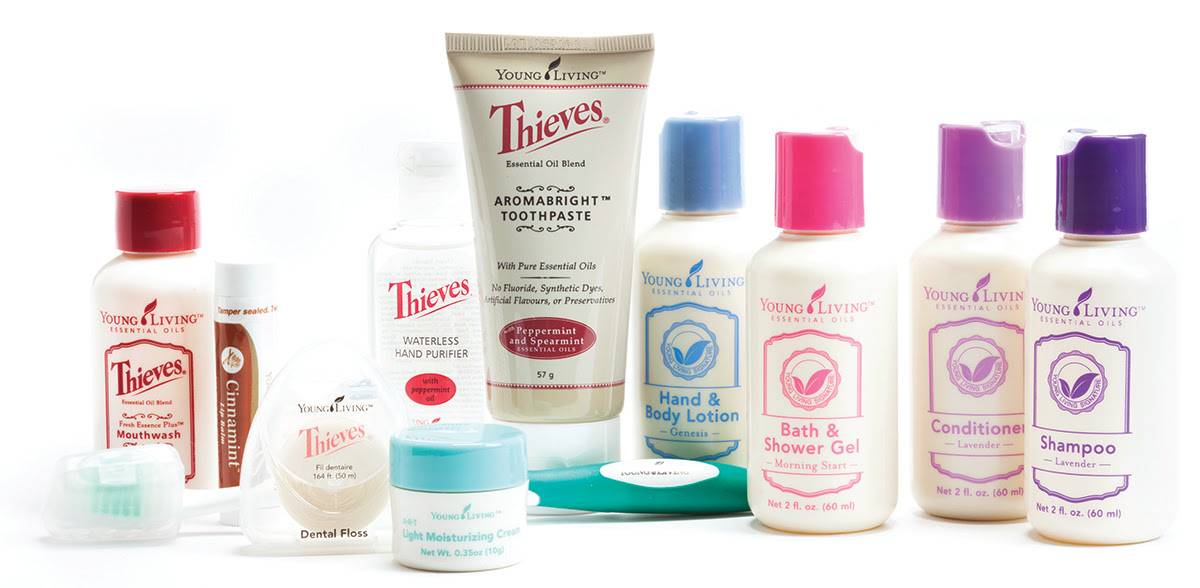 Bon Voyage item #: 4699 $56.50 WS 51.25 PV
Thieves® AromaBright Toothpaste, 60ml
Thieves Waterless Hand Purifier, 29.5ml
Thieves Dental Floss
Thieves Fresh Essence Plus Mouthwash, 60ml
Young Living Toothbrush
Lavender Shampoo, 60ml
Lavender Conditioner, 60ml
Cinnamint Lip Balm
Morning Start™ Bath & Shower Gel, 60ml
Genesis™ Hand & Body Lotion, 60ml
ART® Light Moisturizer, 10g
---
---
Announcing - upgraded Premium Starter Kit!
Did you hear about the NEW Premium Starter Kit (PSK)? RC and Purification have officially been replaced with Raven and Citrus Fresh.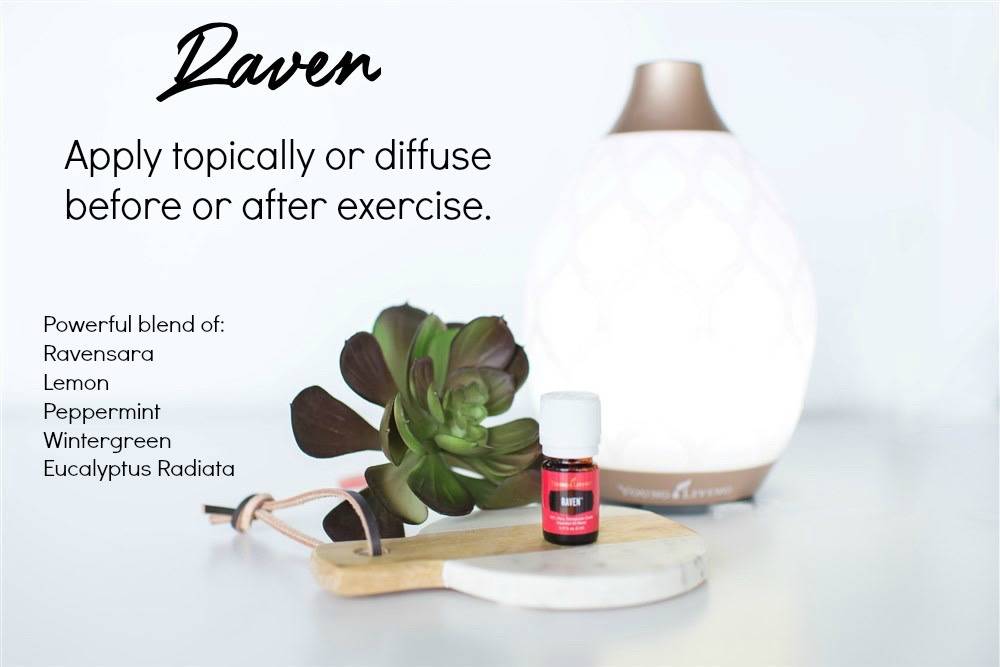 Raven™ is a powerful blend perfect to diffuse or apply topically pre or post exercise and before bed.
Single Oils Contained in This Blend:
Ravensara is a cross between clove and nutmeg. Great for energy.
Lemon promotes physical energy and is great topically on your lungs.
Wintergreen contains 99% methyl salicylate which makes it great to apply to chest and joints pre or post workout.
Peppermint is soothing and cooling.
Eucalyptus radiata gives you a spa-like experience when used or diffused.
Application: Dilute one to two drops and apply topically to lungs and throat. Diffuse or put on pillow at night. Pairs well with Thieves. Not recommended for small children.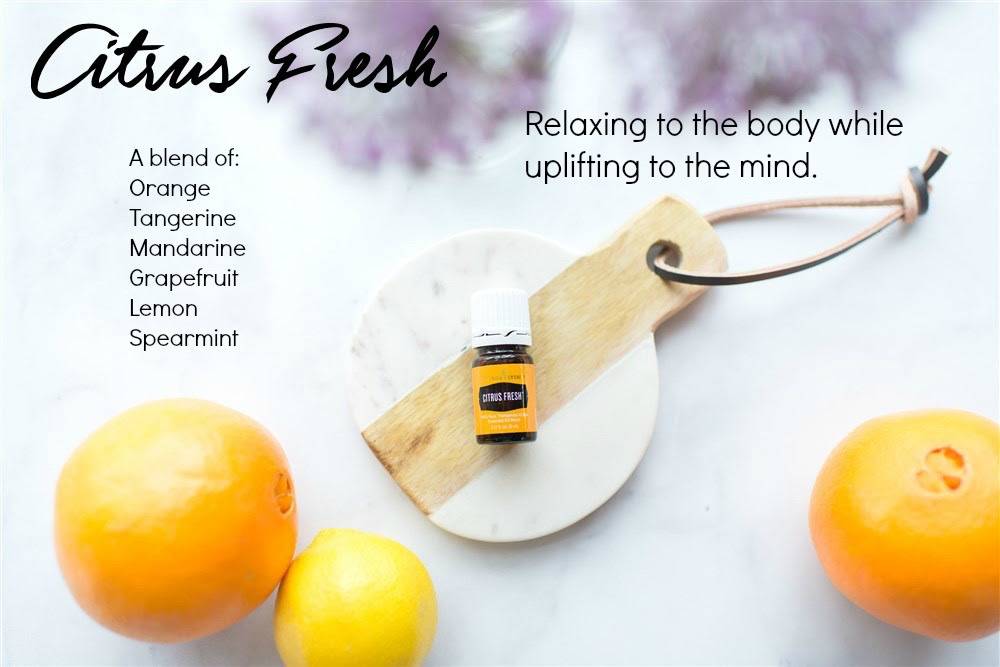 Citrus Fresh™ is a blend that may help to enhance the feeling of well-being in children. It is relaxing and calming and it smells SO good. Think citrus with a hint of mint.
Single Oils Contained in This Blend:
Orange brings peace and happiness to the mind and body.
Tangerine is calming to the nervous system.
Mandarin promotes happiness. It is also refreshing, uplifting, and revitalizing.
Grapefruit is balancing and uplifting to the mind.
Lemon promotes health and physical energy.
Spearmint is uplifting to one's spirit.
Application: May be applied on the ears, heart, and wrists or worn as a perfume or cologne. Diluted with V-6 Oil for a full-body massage. It may also be added to water for a relaxing bath. It is excellent for children, though dilution with V-6 Oil is highly recommended.
Safety Data: Avoid exposure to direct sunlight for up to 12 hours after use.
---
In addition to the new oils, the PSK will now come with a sample of Thieves cleaner instead of the essential oil sample packets. I am so excited that our friends get to try out how magical this cleaner is right away. This one ounce sample can easily make two 16 oz spray bottles of toxin-free all purpose cleaner.
---
If you thought that wasn't enough, you can now
order the PSK with the Desert mist diffuser for $160 100PV on quick order only.
This is a great way to get a new diffuser, try the new oils, and restock your favorite oils. The Desert Mist diffuses continuously for 5–6 hours on High mode, 8 hours on Low mode, and 10 hours on Intermittent mode.* It also offers 11 individual light settings, including a candle-like flicker mode.*Run time may vary based on essential oil type and number of drops used.
---
Upcoming Class!
Would you love to spend a fun Saturday afternoon learning more about oils and staying on track with healthy goals?
My March class is
Creating a Wellness Plan with Essential Oils.

Do you have a rainbow of essential oil bottles tucked inside a drawer or looking pretty on a shelf....but you're unsure how to use them? This class will help you plug in the potential of those bottles to boost your wellness and make a personalized plan for your wellness goals. You'll learn how to research essential oils, how to get the most out of the oils you already have, and how to find the oils you need to support particular systems of the body. Class is limited to 10 spots, and everyone receives a copy of the new "Now What?" 4 month wellness planner to help you target 4 months of health goals. Your $5 fee covers the cost of your Now What planner.

---
Young Living March Promotions:
HELLO Spring Cleaning. Fill up your Essential Rewards cart with your favorite items like NingXia Red, Multigreens, and Abundance and receive these everyday must haves for FREE. You must reach the PV value in a single order to qualify for promotional items.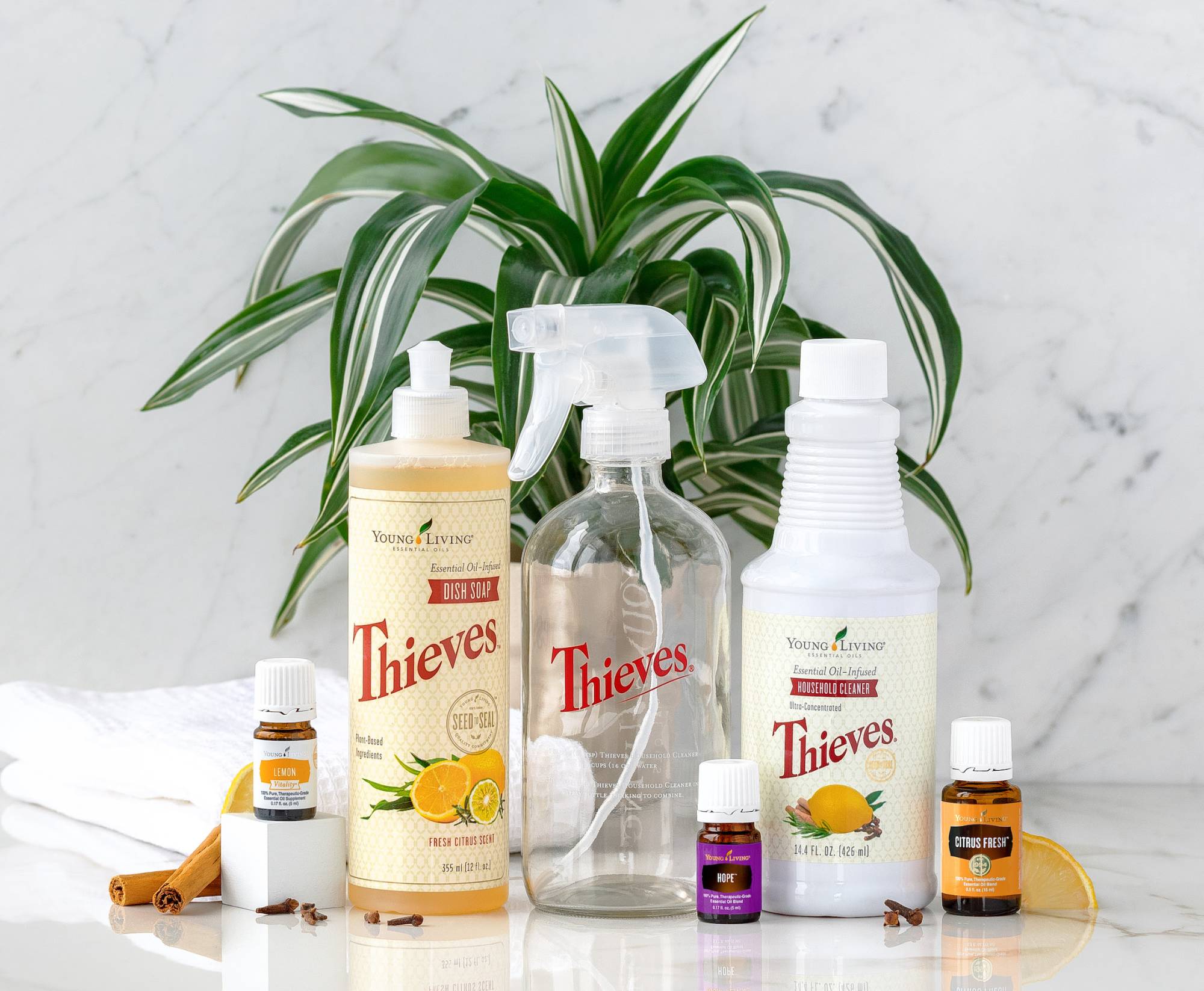 300 PV (Retail value - $154.27)
Hope is a blend of Melissa, Myrrh, Juniper, and Spruce. It gives a feeling of peace, security, and achievement. Who doesn't want that!? Apply this one to your, chest, heart, temples, back of your neck, and wrists. Use it as an beautiful perfume or cologne. Put 4-8 drops in your diffuser and inhale for feelings of going forward with hope and achievement.
Thieves Cleaner with 16 oz Spray bottle
- One bottle of this concentrated Thieves Cleaner is enough to make twenty-nine 16 oz spray bottles. Generic cleaners contain
Phalates
which interfere with hormones and are carcinogens. NO THANK YOU. I'll always use my Thieves cleaner that is SAFE and EFFECTIVE. It is naturally derived, smells great, and I can use it on EVERYTHING.
Thieves Cleaner contains two different sulfates that are derived from coconut oil and sugar. These sulfates are considered surfactants, which contain a molecule that loves water and a molecule that hates water. That means the Thieves Cleaner sticks to the surface and grabs the oil and then washes away easily with water.
Thieves Dish Soap - A little goes a long way. Don't be fooled by few bubbles while washing. This is a powerhouse cleaner infused with Jade Lemon, Bergamot, Clove, Lemon, Cinnamon, and Rosemary essential oils. It contains one of the most gentle surfactants around, often used in baby shampoo, called Decyl Glucoside. Perfect for the most sensitive skin.
BONUS ER 15 ml Citrus Fresh - We just talked about this one above, so I don't need to repeat how amazing it is!
BONUS ER 5 ml Lemon Vitality - Add a drop of Lemon Vitality to your water, food, or daily wellness capsule to add flavor, promote overall wellness, and support your liver and lymphatic system.
250 PV (Retail value $76.67)
Thieves Household Cleaner with 16 oz Spray Bottle
Thieves Dish Soap
BONUS ER 15 ml Citrus Fresh
BONUS ER 5 ml Lemon Vitality
190 PV (Retail value $47.36)
Thieves Dish Soap
BONUS ER order only 15 ml Citrus Fresh
BONUS ER order only 5 ml Lemon Vitality
100 PV (Retail value $8.22)
BONUS ER order only Lemon Vitality
I am here to serve you and to connect you with the Young Living products that support your wellness goals. May you have a wonderful month as Spring arrives!
-- Holly S.