Feb 8, 2019 02:39 PM Central
Hello my wonderful oily
bees!Hope you are enjoying this preview of dare-I-say-it

S.P.R.I.N.G.

and finding time to enjoy our warm weather! Read on for new about YL's starter kit upgrade, my diffuser giveaway contest, February promos that you can get free in your order this month, and where I'll be teaching next! Hope to see many of you tomorrow here in Bealeton at Liberty High School's vendor and craft fair from 9-2 to raise money for the after prom party! I've got a stash of Thieves Cough Drops to give out so if you've never tried these, make sure to stop by and ask me for one. Over 70 vendors are registered and I'm really looking forward to seeing many of you!
YL's Premium Starter Kit gets an UPGRADE!
Two of Young Living's master blends,
Peace & Calming
and
Valor
(my personal favorite!) are now part of the PSK line up! They added in an additional oil bottle, so now you'll find 12 total oils in the box, plus a Thieves Hand Purifier, a sample of Thieves Cleaner, 2 NingXia Red packets,(antioxidant drink), and two rollerball caps to put on top of two of your new bottles for quick topical application. The price only increased $5 but at the same time the retail value of what's included in the kit actually made it an even better deal (add up the $$ in the graphic above). Of course you still get your choice of diffuser, and in my new kit I ordered the freshly upgraded Dewdrop Diffuser that now has the same electronic base as the Desert Mist Diffuser (10 hour mode, multicolor, candle flicker, etc.) and now comes in beautiful gray and white (yes! looks like it belongs in a Better Homes & Gardens farmhouse makeover!).
Not only did the Dewdrop get a fresh makeover, the glass topped Aria now also has updated electronics in its base so that it can run up to 6 hours, or up to 12 hours in intermittent mode. You no longer have to use the remote to turn it on (the switch is now directly on the diffuser), and remember that the Aria comes with an audio cable so you can listen to your favorite music through the diffuser's speaker! Might be time to pick up a new Premium Starter Kit to restock your oils and get one of these next gen diffusers!
My February Diffuser Giveaway!

With the PSK changeover, I found myself with an extra Desert Mist Diffuser still in the box, so I decided do a little contest during February to give it away! There are several ways you can enter my drawing to win. Listen, every oiler's home needs a Desert Mist! It's truly a beautiful diffuser and you're going to love the candle flicker mode!
Here's how you get entries: I wanted to make sure that there were ways for both new-

oilers and my current oily

customers to get a chance to win so there are a variety of things you can do.
1) If you've been interested in learning more about oils, book a 1 on 1 class with me to learn the ropes. I'll give you quick reference guide so you can take notes and think about how they could work for you.
2) Take the plunge as a new-

oiler and order a Premium Starter Kit with me! I promise to hold your hand to learn how to use all 12 bottles, one of which is favorite blend, VALOR!
3) Do an oils inventory with me! We can schedule a time to talk over the phone or meet for a coffee or tea time. Show me all of the oils you have in your inventory, and I'll give you some suggestions on new ways to use them and new oils you may want to try.
4) Sign up for Essential Rewards and start earning cash back on your oils orders. Y'all this is cash back in your wallet not only on essential oils that you love, but also vitamin supplements, toxin free cleaners, gorgeous mineral makeup, skincare products, treats for your pets and even GMO free breakfast cereal! Last time I checked, Amazon does NOT pay you to shop on their website, and with YL Go (YL's answer to an Amazon Prime membership), your shipping is super quick and free!
5) Share Young Living with someone and they order a Premium Starter Kit (and you also get a
$50
thank you referral check in March from Young Living!)
6) Host a super fun and interactive YL 101 class with your friends (pick a date, and it can be at any location you choose).
Since I shared this contest on my Bee Oiled Classroom FB page, I've already gotten some entries and I'd love to include you in the drawing, too!

Presenting the February Promos!!
February is all about red hearts, sweet words of kindness, and well you know...hugs and kisses! What I'm most excited about is

Ylang Ylang

at the 400pv tier (yay!) That oil has been out of stock for a LONG time and it's a beloved favorite!
Now let's get to those PROMOS:

Clove Vitality 5ml (ER exclusive): Let me break it down oily bees, Clove oil is the most concentrated antioxidant known with an ORAC (Oxygen Radical Absorbance Capacity) value of over 1,000,000. By comparison the ORAC score for blueberries is only 2,400. So yeah, we're talking immune system support! Also wonderful to dilute and rub on the gums for oral health. Any bakers? Just go google Clove oil and fall recipes and you will come up with lots of fun ways to use Clove Vitality. Aromatically, Clove encourages sleep, stimulates dreams, and creates a sense of courage.

Marjoram: 5ml (ER exclusive) : Known as the "herb of happiness" to the Romans and "joy of the mountains" to the Greeks, it has been used to increase longevity! Wonderful to use on the muscles - add to some V6 oil and rub on your legs and arms after a workout. Also available as a Vitality oil, this oil is wonderful for the circulatory system. Use it if you're doing a lot of sitting - desk or car or plane. Aromatically, this oil is calming and I love to diffuse it with Orange and Lemon for an invigorating yet relaxing blend. It has a distinct herby aroma that I particularly love.

Super Cal PLUS: This is VERY NICE that YL is giving this supplement for free this month! This is no ordinary calcium supplement, y'all. Super Cal Plus offers more than just calcium and minerals—it's a true bone-health supplement. One of the main distinguishing ingredients are marine minerals from red algae grown in Iceland. This plant based calcium ingredient is delivered in a powerful matrix of 72 trace minerals naturally derived from algae. Unlike rock based calcium that contains little to no supplemental trace minerals, this ingredient has proven bio-availability due to its unique structure and spectrum of minerals. To support the route of calcium from the digestive system to the bones, it is crucial to provide Vitamin D, Vitamin K, and Magnesium. These co-factors work through complex biochemistry to deliver the calcium and other minerals as bone deposits. Another unique and powerful ingredient in Super Cal Plus is a fermented polysaccharide complex from a new strain of black yeast. This ingredient has been shown to support osteoblast function and the delicate ratio of bone remodeling. This ingredient supports bone density by potentially mimicking the function of estrogen. In clinical studies black yeast was shown to slow the process of osteoporosis. This is something I am thinking about a lot recently!
Because of the powerful ingredients in this product, we can make strong claims about osteoporosis, which is actually listed on the bottle! "A daily recommended dose of calcium and Vitamin D throughout life, as part of a well-balanced diet, may reduce the risk of osteoporosis." BOOM!

Cypress 15ml: This oil helps to calm and ground you and is wonderful for releasing stored emotions as well as easing feelings of loss and creates a sense of security. It helps to heal emotional trauma, relieves anger and helps life flow better. I've also heard you can use this while traveling (rub it on the bottoms of your feet when you have to sit a long time on a plane or when driving a few hours). Cypress is a great oil to put on your body to get moving - yoga / walking/running.

Purification 5ml: This blend is made up of six essential oils for the ultimate weapon against odors. Citronella, Lavandin, Lemongrass, Rosemary, Myrtle, and Tea Tree work together to create a refreshing, bright scent! Here are just a few ideas on how to use Purification: *Add a few drops to the laundry to give your wash a great-smelling boost.
*Place a few drops on cotton balls and stash them wherever necessary: the car, closets and drawers, air vents, or shoes.
*Use in the car with a USB Diffuser to eliminate lingering scents of fast food trips or the soccer carpool.
*Refresh linens with a spritz of Purification, diluted with distilled water.
*Create an on-the-go air freshener with a spray bottle, distilled water, and Purification. Keep it in your bag to freshen up offices, public restrooms, hotel rooms, and cars.
*Emotional uses: Purification helps with anger, being alone, fear of rejection, fear of seeing, negative thoughts, recognition, violence.

Palo Santo (5ml): This little bottle of goodness does so many things! It comes from the same botanical family as Frankincense. You know all the reasons why you love frank, you will love Palo Santo as well. Palo Santo means "sacred wood" and what I think is so very interesting about the tree that this oil comes from, is that when a Palo Santo tree dies, it releases plant chemicals that God designed to nourish the surrounding woodland species.Try diffusing it with Pine, Lemon, and a spruce oil.

Ylang Ylang 15 ml (400 pv Tier): Whee!!! I can't even count how long it's been since this oil has been in stock. Ylang Ylang means Flower of Flowers. It's the oil of LOVE, combats anger & low self-esteem, can be used to battle stress, and increase focus. Let me just say your heart loves this oil (and you can look that one up). Diffuse Ylang Ylang with Orange and Lavender and a couple drops of that Palo Santo for Valentine's Day!
Upcoming Classes and Events:
Liberty High School (Bealeton) Vendor and Craft Fair:
Tomorrow, Saturday February 9 from 9-2pm Over 70 vendors are registered! Come and see the upgraded Premium Starter Kit and tell me you'd like to enter the Desert Mist Diffuser giveaway! Link is here:
https://www.facebook.com/events/1161334547358966/
Winter Skincare in a Mason Jar:
Saturday February 23, 2-4pm right here in my kitchen in Bealeton. Does your middle-of-the-winter skin need some extra TLC? Learn how to create two projects with natural ingredients that will get you through 'til spring! We're whipping up 4oz jars of Savvy Winter Skin Salve and Frankincense Cream for Faces. Make both for $10 to cover supplies or an extra jar of either for $5. You can RSVP here:
https://www.facebook.com/events/1703675023110953/
Brentsville District High School Spring Craft Show: Saturday March 23, 9-2pm
Breadmaking 101 and Cooking with Vitality Oils:
Saturday March 30 2-4pm Bringing back whole grains! Make a loaf of bread from seed to slice

and also taste test some easy recipes that include Young Living's Vitality Oils (quick and always fresh substitute for ground spices)
Have a LOVELY Valentine's month!
Holly Schoenhoff
BeeOiledCollective.com
Young Living Essential Oils Independent Distributor
Nov 5, 2018 03:50 PM Central
Hello oilers!


With this rainy Monday, I hope you are diffusing something warm and cheerful like Citrus Fresh + Thieves and filling your home with happy as the season changes. Even with the Santa hats and Christmas greenery appearing in stores, we still have this season of gratitude and thankfulness as we prepare for family gatherings later in the month. Diffusing oils can support your emotions, stress levels, and even motivate you to get all those important things done on your list during this busy time of year. Have you tried the Christmas Spirit oil blend yet? It's an inexpensive blend of orange, spruce, and cinnamon and is everyone's favorite to drop in the diffuser during "sweater weather."
Essential Oils Q & A class tonight, Monday November 5th!

I'll be at Warrenton Panera at 6:45pm tonight sharing about oils with my oily sister Marlene Gardner, who is a middle school nurse. Come and ask all your questions and if you're new to oils, I'd love to give you one of my favorite mini-reference guides for you to read more at home. You can RSVP on the Facebook Event page here:
https://www.facebook.com/events/804306229900787/
Want to earn some extra holiday shopping cash or earn some free Young Living products for yourself or to give as gifts? Ask me about hosting an essential oils bingo night for you and your friends!
November Promos!
Did you know that in November, Young Living offers some of the best values of the year on their products? Right now if you max out the promos, you can score $367 retail value in FREE products, and if you already earn ER points on your monthly order, you can do the math and see that YL is overwhelmingly paying you back most of what you spend on this order! Later this month, I'll be sure to alert you about Young Living's Black Friday weekend deals, which are always outstanding!
For the November promos, it's not my usual to start off talking about the 400pv level, but this month it's unique. At the 400pv promo level, not only do you get all the other promos, but this month you also get an exclusive blend only available for these promos that is valued at over $170 retail for that one bottle! It's a blend called Higher Unity (contains Sacred Sandalwood, Lime, Sacred Frankincense, Spearmint, Northern Lights Black Spruce, Lemon, Jasmine, and Rose) created for the purpose of keeping the peace in gatherings of people (think holiday family gatherings, election month, and brainstorming work sessions on the job). It has a floral, sweet, and uplifting aroma, with some woodsy notes. I ordered mine on the first of the month and can't wait until it arrives! It's the cherry on top of my order this month. Follow along in the Bee Oiled Collective Oily Classroom as I teach you how to use all of those free promo oils over the next few days.
Young Living Holiday Catalog!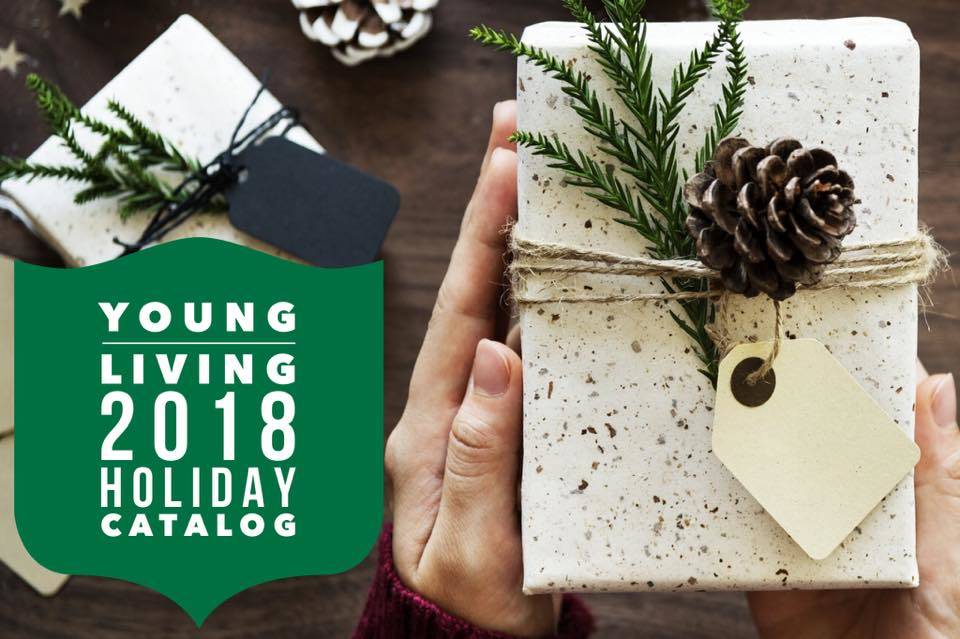 Have you flipped through the YL Holiday Catalog yet? There are several nice money saving bundles in there, and you can also add these to your monthly Essential Rewards order and save even more! Remember with ER, you get 10%-25% cash points back on your order! Link to the e-catalog here:
https://tinyurl.com/yababk9k
Gratitude in a Bottle!
This mix of oils was blended for the purpose of reminding us to feel grateful for all we have in life. Use it every day this month to create a positive attitude of gratitude. When you are grateful for the things you have, your entire attitude changes, and the way you approach your work or the people around you become more effective and loving. Just a little reminder in this season of Thanksgiving.
Fall Diffuser Blends!
Finally, to celebrate the season, I wanted to share a few diffuser blends that will have you smiling all month long.
Fresh Apple Pie
3 drops Cinnamon Bark
2 drops Clove
1 drop Nutmeg
1 drop Ginger
Walk in the Woods
4 drops Northern Lights Black Spruce
2 drops Patchouli
2 drops Clove
Pumpkin Pie
4 drops Cardamom
2 drops Orange
1 drop Cinnamon Bark
Happy Holidays
3 drops Christmas Spirit
2 drops Clove
1 drop Lemon
As always, if you need any help with anything, or if you have any questions, please let me know! I'm always here to help however I can. Break out your fall clothes, build a fire, and snuggle up to everything amazing that this season and Young Living has to offer us, and I hope you have a wonderful month!
Bee Oiled!
-- Holly S.